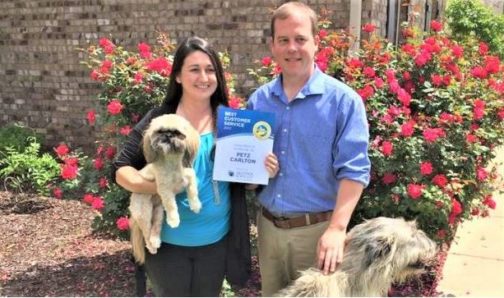 MADISON –Mike and Melissa Cox, owners of Petz Carlton pet-sitting community received the "Best Customer Service" award in Huntsville.
Alcova Mortgage sponsored the program. Petz Carlton received the award for its "noteworthy fast response time, reliable daily photo updates and stellar customer service to both human and furry clients that brings comfort and peace of mind to clients," an Alcova spokesperson said.
Petz Carlton uses safety procedures and screening processes that set them apart from the competition. "We provide a client's furry family a home away from home so clients can enjoy a guilt free vacation," Melissa said.
Petz Carlton's amenities include nail trimming and painting, bathing, nose and pad care.
The Cox family pets are Kya, two-year-old Irish Wolfhound; Lily, three-year-old Shih Tzu; and Izzy, eight-year-old American Eskimo.
To schedule meet-and-greet time, call 256-682-4078, email to petzcarlton@gmail.com or visit petzcarltonpack.com.
Original Article: 
https://www.themadisonrecord.com/2017/05/06/petz-carlton-wins-customer-service-award/