Barks and Boo's provides Halloween fun for dogs, humans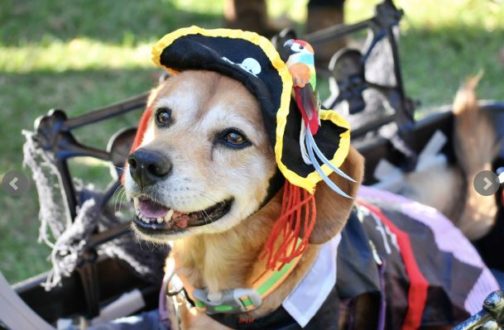 HUNTSVILLE — The fourth annual Barks and Boo's event, hosted by Petz Pack and Rocket 95.1, saw plenty of smiling faces and wagging tails at Big Spring Park Oct. 13.
Hundreds brought their costumed furry friends to the park downtown for an afternoon of games, raffles and costume contests benefiting the American Cancer Society and the Huntsville area's Relay for Life. Vendors were also present. The event was free to attend, pay to play. Melissa Cox, founder of Petz Pack, said the event raised about $3,200.
"This year's turnout was astounding," said Cox. "The only complaint we received was the length of the line to get in. … Everywhere you looked, there was a dog participating in one of the games, and everyone had a great time."
Games and activities this year included returning favorites such as Bobbin for Hot Dogs, the PupCake Walk and the Treat Stacking competition. The PupCake Walk, sponsored by A Barker's Dozen, allowed players to win cupcakes for their dogs to enjoy. Cox said this year's event also saw the addition of several new activities: High Five for Treats, Stay for Treats, the Cup Game, Which Hand, Ball Catch, Down for Treats, Sit for Treats and Expert Tricks.
Raffles were held throughout the event. Cox said her husband, Michael, gathered more than $3,000 worth of prizes from local businesses. Raffle and contest prizes this year included treats, toys, goodies for humans and prize packs such as the "evening with your dog" pack and Tito's gift bag. Local author Catherine L. Knowles donated signed copies of her book, "The Doughnut Tree."
The main event of the afternoon was the costume contest, with Michael Cox and Rocket 95.1's Marsha Seymour serving as emcees. Dogs could enter in three categories: cutest, scariest and best overall. Many dogs strutted their stuff and showed off a wide range of costumes to earn the top prizes.
The winners of the cutest costume were doggy duo Henry VIII and Buddy, who were dressed as Henry VIII and his executioner. The scariest costume went to Kayla Stuart's dog Ollie, who was dressed as classic villain Freddy Krueger from the "A Nightmare on Elm Street" film series.
Best overall costume was awarded to three-legged pirate dog Rain. Rain's owner, Jennifer Bethig, dressed Rain up in a pirate outfit and turned a wagon into Rain's pirate ship. The winning feature, however, was Rain's wooden leg. Bethig said Rain lost a leg to cancer, which made the event's donations to the American Cancer Society even more meaningful.
"It is our hope that the monies from efforts such as these will bring us that much closer to a cure for humans and canines alike," Cox said. "Canines are caregivers for cancer patients, too. This was a celebration of our furry family in the fight against cancer."
Cox said Petz Pack looks forward to continuing Barks and Boo's for years to come and will keep working to grow and improve each year.
To view more photos and a video of the event, courtesy of Pixel Joe's Photography and Video, visit the Barks and Boo's Facebook event page.
To learn more about Petz Pack, visit petzpack.com.
Link to article: https://www.themadisonrecord.com/2018/10/19/barks-and-boos-provides-halloween-fun-for-dogs-humans/